Events
Upcoming Special Events & Promos * Regularly Scheduled Events * Charity Projects
Special Events & Promos
Rose City Yarn Crawl, February 27 – March 2
The biggest event in Portland knitting is coming soon to a yarn store near you! Check out the RCYC website and start planning your route now!



Gifts and Prizes!
RCYC Passport & Grand Prize. Get your passport stamped at all 18 shops to be entered for the Grand Prize Basket!
RCYC Prize drawings. One First Prize Basket, one $50 gift card, and one $25 gift card will be awarded by random drawing at every participating shop after the completion of the Crawl. No purchase necessary – just sign in at every shop you visit for a chance to win that shop's prizes!
Twisted Prize drawings. PLUS – here at Twisted we'll have bonus drawings (several a day) with winners randomly selected each day from the sign in sheet.
Gift bags. All purchases over $50 get a free gift bag packed with goodies like patterns and notions. While supplies last & one per person, please.
Relaxation station. Sit down for a moment on our comfy sofas while you enjoy a selection of free snacks and drinks.




Events!
Thursday, February 27th:
12noon-4pm – JamPDX Trunk Show. Check out beautiful, locally-made ceramics from JamPDX. JamPDX girls, Jenn and Megan, will show you their hand-thrown and painted yarn bowls, the best coffee/tea mugs you've ever used, as well as other gorgeous hand-made ceramics.
12noon-4pm – Imperial Stock Ranch Trunk Show. Meet Jeanne Carver, the force behind Imperial Stock Ranch and Imperial Yarn. Check out garments from Imperial Yarn's newest collection and find out for yourself what a gem this Oregon company is all about.


Friday, February 28th: 12noon-4pm – Blue Moon Trunk Show. Once in a Blue Moon do you get an opportunity to discuss color with the Queen, Tina Newton from Blue Moon Fiber Arts. She'll be at Twisted, along with a plethora of garments and inspiration.


Saturday, March 1st: 9am-8pm – Spotlight on some very Twisted kits. Let us do the shopping for you – we'll have oodles of ready-to-grab kits put together for your crafting pleasure.


Sunday, March 2nd: 12noon-3pm. Knitted Wit Trunk Show. Join Lorajean Kelley and little Frances Jean of Knitted Wit for a color exploration. Oodles of garments will be on display for your end-of-the-crawl-weekend inspiration.
Special Patterns!
Each shop on the Crawl has designed a special pattern highlighting their local neighborhood. For Twisted, that is Sullivan's Gulch.
To get each shop's patterns for free all you need to do is visit that shop during the Crawl and make any purchase!
Or, you can purchase the patterns individually on Ravelry right now, or purchase them combined into eBooks: Neighborhood Knits & Crochets Too, Neighborhood Knits, and Neighborhood Crochets.
Margaret Sullivan's Shawlette (knit)
by Shannon Squire
Twisted's neighborhood, Sullivan's Gulch, is named after Timothy Sullivan, who was a world-class traveler until settling in Portland, building his homestead, and inspiring a neighborhood to be named after him. He met his wife, Margaret, in Tasmania in 1841. This shawlette seems the kind of thing a globe-trotting, practical 1800s woman would throw on to head out to tend to the chickens.


This slideshow requires JavaScript.

Sullivan's Spring Shawlette (crochet)
by Shannon Squire
Sullivan's Spring was located near Timothy and Margaret's cabin and became a popular site for picnickers. A mural depicting this bucolic scene appears on the outside back wall of the pub at 1700 NE Broadway. This granny circle crocheted shawlette would be the perfect thing to throw on when heading for a picnic in your favorite Portland neighborhood.


This slideshow requires JavaScript.
North Trunk Show, February 3 to March 3
North is a collection of knitting patterns by Twistedista Sorren and Twistedista Emeritus Vivian!
This book is part of the Malabrigo Freelance Pattern Project and features lots of lovely Fair Isle style colorwork for kids and adults.
Garments include a baby sweater, a baby dress, a cowl, baby legwarmers, and two hats… each cuter than the last!
$25, or patterns available separately.


All images from North, copyright Vivian Aubrey.


Happy Hour with Thea Coleman, Monday, April 7, 2014 from 5:30 – 6:30
Thea Coleman is coming to Portland! Trunk show, cocktails, prizes. Chat with this iconic knitwear designer about pattern inspiration.
Thea Coleman is the designer of Baby Cocktails, a fantastically popular series of sweaters and accessories named mostly after, you guessed it, cocktails.
Most of Thea's patterns are available from Twisted electronically, though the most recent are only available via her on Ravelry. Whatever the source, they are uniformly adorable, wearable, and classically gorgeous.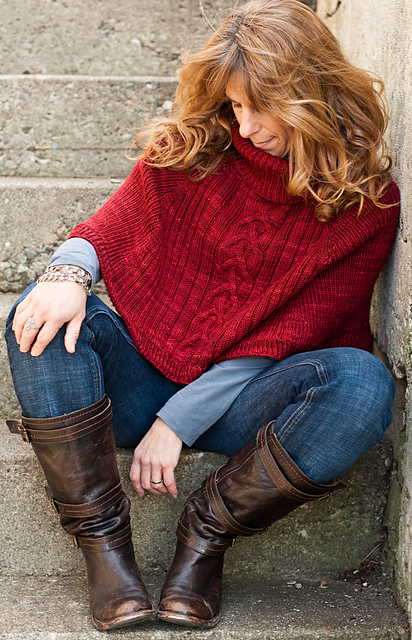 All images from Baby Cocktails. Vodka Lemonade ©2012 Caro Sheridan. Sambuca ©2012 Amanda Johnston. Dark and Stormy ©2010 Caro Sheridan / Splityarn. Bailey's Irish Cream ©2013 BabyCocktails. Cranberry Capelet ©2010 Spliytarn. Rolling Rock ©2013 BabyCocktails. Charleston Tea ©2012 Splityarn.


Imperial Stock Ranch Knitting Retreat, Friday, April 11 – April 13, 2014
Join us for a two-night knitting vacation to historic and beautiful Imperial Stock Ranch!
Prices start at $509 for this all-inclusive weekend welcoming knitters of all skill levels!




Regularly Scheduled Events
Craft night
Every Tuesday from 6:00 – 8:00 pm. Knitting, crocheting, embroidery – anything that won't make too big a mess is welcome and encouraged. Free tea and wine (21+) provided.


Spinning night
Every Wednesday from 6:00 – 8:00 pm. Bring your wheel or drop spindle and whirl away the hours with your fellow spinners. Free tea and wine (21+) provided.


Knitting day
Every Friday from 10:00 am – 2:00 pm. Free tea and coffee (nothing fancy – just a cuppa joe) provided.


Friday night knitalong
Every Friday from 5:00 pm – 8:00 pm. Free tea and wine (21+) provided.
Join us in knitting the Rose City Yarn Crawl's 2014 Mystery-alongs! First clue released 1/17. There is a knit and a crochet shawl. Check out the Rav page for details and yarn reqs. Please note that we are unable to sell this pattern via Ravelry in-store pattern sales, so please purchase it and print out each week's clues before you come.
Free tea and wine will continue to flow along with the remarkably interesting, and often times wacky, conversations!
As always, post any discussion, comments and progress to our Ravelry group. We'll see you on the couches!